2020
The House in the Park
Frameworks Films is currently completing a documentary called 'The House in the Park' about Cork Public Museum, which celebrates 75 years in existence in 2020. The documentary explores the current museum located in Fitzgerald's Park in Cork, which opened in 1945 as well as its predecessor, which ran from 1910 to 1924. Through interviews with people from various cultural and academic institutions, the documentary tells the history of the museum chronologically and also explores the role of a public museum in the life of a city and the relationship with its people. In particular the documentary explores how the museum has engaged with the Travelling community to host exhibitions of Traveller culture and heritage and more recently the LGBT community. Finally the current curator Dan Breen will talk of his plans for the future of the museum and how he would like to develop the relationship between the museum and the people of Cork.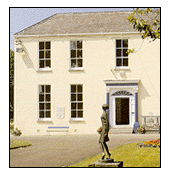 Cork Through the Barracks
'Cork through the Barracks' is a sixty-minute documentary which will be completed in 2020. It tells the story of Collins Barracks in Cork and what a key role it has played in all of the major historic events in Cork over the past two centuries. In particular it will shed new light on the revolutionary period in Cork and the part that this historic building played in the formation of a new Ireland. Finally it allows viewers inside the high barrack walls to get a better understanding of the role that Collins Barracks plays in Cork today.