2011
Ola's Story
'Ola's Story' was produced as part of a film project that took place between Frameworks Films and Nasc – the Irish Immigrant Support Centre. The aim of the project, which was funded under the Arts Participation Award from The Arts Council, was to explore the theme of cultural diversity through film. A group from Nasc collaborated with the film-makers from Frameworks to devise the idea for the docudrama and then to film and edit the film. The process- based nature of the project is reflected in the final piece, which includes footage of the idea being developed, interspersed with the film itself. Rather than making any definitive statement, it is hoped that the final piece can be used as a stimulus for discussion on the theme of cultural diversity.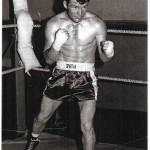 The Fight Game
This documentary explores the passion behind the sport of boxing and in particular focuses on the story of boxing in Cork. It asks why people are drawn to boxing, what it is like to face your opponent in the ring and what makes a great boxer. It also profiles three Cork boxers, each hailing from a different generation - Tommy Hyde, Mick Leahy and Michael Roche. The film is told through interviews with members of the Cork Ex–Boxers Association and the families of those involved and will include a large archive of photographs and other footage. It also has some live action and footage of boxing clubs operating in Cork today.
Mural Men
A short documentary with the Mahon Intergenerational Project which documents a men's group from Mahon in Cork who travel to Belfast in Northern Ireland to participate in an arts project.
Film Workshops with the Cork Foyer
Film-making workshops with young people from the Cork Foyer.