2006
My Home – Housing Options for People with Disabilities:
A collaborative production with the Cork Centre for Independent Living, the film explores the concept of independent living with particular regard to housing.
The film features several people with disabilities presenting their own homes and some of the features they have incorporated into them. The film was produced for people with disabilities but also service providers, local authorities, architects and planners. The film was screened in the Triskel Arts Centre in April 2006.
Film-making workshops with the Ballincollig Action Project:
A series of workshops were held with young people to introduce them to the film-making process. Following this the young people produced a short film about Ballincollig to inform the County Council and local planners.
Film-making workshops with participants from the Northside Community Enterprise:
Introduction to film-making process and facilitation of a film project undertaken by participants about the activities of the Northside Community Enterprise.
Film-making workshops with The Rock Project,
Blarney St and facilitation of a production by the young people on the history of their project.
The GAMA Strike – A Victory for all Workers:
Produced in collaboration with the Socialist Party, this 60 minute documentary explores migrant worker exploitation in Ireland. The film tells the story of the fight against worker exploitation in the Turkish multinational construction firm GAMA, who were awarded large infrastructure contracts in Ireland. The film shows how the exploitation was first uncovered and how the Irish Government was forced to formally investigate the company after the matter was raised in the Irish parliament. The film documents the historic struggle, waged by GAMA workers, for justice. The film was premiered in Dublin in Aug 2006 and was also selected for screening in Cork Film Festival in Oct 2006. The film was since been screened at various other festivals worldwide.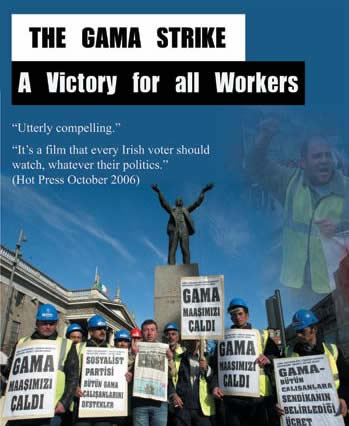 Composer in the Classroom:
Frameworks was commissioned by the Arts Office of Cork City and County Councils to produce a short piece on the Composer in the Classroom scheme where musicians John Spillane, Irene Buckley and Louise McCarthy worked with students from three schools to compose a selection of pieces for performance at the Cork International Choral Festival.
Community Carnival Project for St Patricks Festival
Documentation of groups from the North-West section of the Community Carnival Project and production of a short film highlighting the work behind the scenes and the parade itself.