2005
Cork WideScreen
This project was developed for and funded by Cork 2005 European Capital of Culture. In this project Frameworks Films collaborated with a wide variety of community and voluntary groups in Cork city and county to produce twelve short documentary films. Its purpose was to provide an opportunity for a diverse group of people living in Cork to express their views on issues in their community and to challenge Cork's citizens to critically reflect on their city and its future.
Each month in 2005 one of the films was screened in the local community, which involved bringing a full-scale cinema experience out to community halls as well as bringing communities into established arts venues such as the Triskel Arts Centre and the Firkin Crane. In June 2005 six of the films were shown to a much wider audience of approximately 650 people in Cork City Hall at a Gala Night Screening. The other six films were screened at a second Gala Night on 11 December 2005 when a compilation DVD was also launched.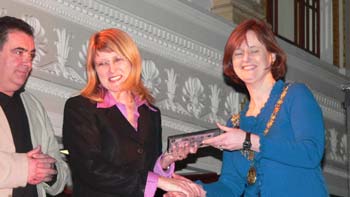 Cllr Deirdre Clune, Lord Mayor presents a copy of the
Cork WideScreen DVD to Siobhan O'Neill
Sunbeam (with the Northside Folklore Project)
Former workers of the Sunbeam Wolsey Factory explain what part the Sunbeam played in their lives and why the closure in the 1990s and the recent dramatic fire had such an impact on the local community (20 mins).
Accommodating Togher (with the Togher Family Centre)
The film addresses an unfolding situation regarding social housing in Togher and explores the links between where you live and the community around you (20 mins).
Who Are We Now? (with Nasc – The Irish Immigrant Support Centre)
A group of asylum seekers and refugees talk of their experiences of living in Cork and address some of the issues they face (29 mins).
Educating The Class (with the Community Women's Education Initiative) How those who felt let down by the education system in Ireland in the past are now creating their own educational opportunities through community education (20 mins).
Making Mayfield (with the Mayfield Employment Action Project)
Exploring the notion of the term 'community', through the example of Mayfield on the northside of Cork city (27 mins).
Living Together (with the Social Housing Development Company)
A co-operative housing organisation in Cork offers an alternative view on housing in the context of a rapidly changing housing market (15 mins).
Out and About (with the Cork Gay Community Development Project)
A mapping of the lesbian and gay community in Cork over the past thirty years, on a social and political level (21 mins).
Over Here (with the Cope Foundation Mallow and the Brothers of Charity (Southern Services) Caritas Training Centre)
A group of people with an intellectual disability in Cork present aspects of their lives in an urban and rural context and express how they wish to be treated by society (17 mins).
School Rules (with the Gurranabraher/Churchfield Outreach Project)
A group of young people from Cork's northside share their views on school and reflect on whether everybody has the same educational opportunities in 2005 (15 mins).
From Mahon To Warsaw (with the Mahon Community Development Project) A group of young people from Mahon in Cork explore cultural identity during a visit to Poland, where they spend a week with other young Europeans and visit the concentration camps in Auschwitz-Birkenau (25 mins).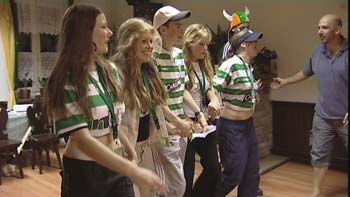 Young people from Mahon on location in Poland
Straight-Talking (with the Traveller Visibility Group)
Traveller women in Cork answer the most frequently asked questions about traveller's lives and provide a visual insight into their culture (20 mins).
Filming a scene from Straight-Talking
The Campaigners (with the Cork Anti-War Campaign)
A group of anti-war campaigners from Cork provide an insight into their opposition to war, as they mount a campaign to protest against the visit of George Bush to Ireland (26 mins).
Pilot Week of Cork Community Television
A second project for Cork 2005, Frameworks Films compiled a Pilot Week of Cork Community Television which was broadcast from 5pm to 8pm on the local cable channel during the week 31st October to 6th November 2005. The short documentaries produced for the Cork WideScreen project were broadcast during the pilot week along with programmes from other groups in Cork and around the country. The main purpose of the pilot week was to showcase what Community Television is and to generate interest and support for the development of Community Television beyond 2005. Community Television is a new phase in Irish Broadcasting and has the potential to offer exciting new opportunities to explore a wide variety of cultural activities.
Film-making Workshops with the North Presentation Secondary School and production of 'Answers & Questions'